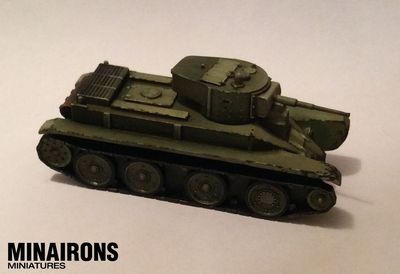 In August 1937(*), the USSR supplied to the Spanish Republic around 50 units of this tank, that were hurriedly organized into a heavy Tanks Regiment under Soviet command and pitifully thrown against Nationalist defences around Saragossa town, suffering heavy losses. Put thereafter under Spanish command, BT-5 tanks later saw action at Teruel and Ebro battles, also with little result.
Perhaps influenced by the wrong use of this tank by their enemies, the Nationalists widely underestimated it and relegated those captured to the rear.
(*) Some sources state that delivery was earlier, around April. But if so, they'd been able to participate in Brunete battle (6-25 of July) --but they didn't.
Customers who bought this product also bought: